20" MYLUXURY1ST 20 Pieces Remy Tape Weft Body Wavy 50 grams
$

74.99
On sale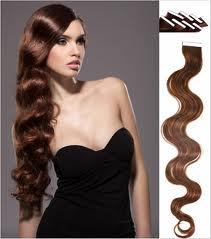 Regular Price
You will receive 20 single pieces [A 50 GRAM SET]

-These need to be heated to seal. Use a flat or curling iron to sandwich two pieces so the adhesive can heat and stick. 3-5 seconds should be enough; opening the tool to release heat as not to over melt. When warm press FIRMLY with fingers along the entire length to make sure each piece is stuck together.
-To apply Tape hair extensions you section your hair into a straight line. *Remove the backing tape from a piece of Tape Hair, and place it under a small section of your natural hair near the scalp. Make sure to only use a thin section of your own hair. You should be able to see the tape through your own hair. This ensures that the tape hair can stick to itself to help hold. Using too much of your own hair will not let the tape hair stick to itself and it will come out easily.

A full head may need 40 pcs or 60 pcs for thicker hair
This hair can be curled, flat ironed, washed, conditioned, & dyed darker.
-Ask your stylist for help if needed; customer is responsible for install and aftercare.
20" long, 1.5" wide per piece
-100% Remy Human Hair
7 Colors to choose from are:
#1 Jet Black
#2 Chocolate Brown
#4 Medium Brown [tad lighter than #2]
#6 Ash Brown [vibrant #4]
#60 Platinum Blonde [white tint]
#613 Bleach Blonde [yellow tint]
#16/613 Ash Blonde/Bleach Blonde
Quality is Silky, smooth, Asian Remy Indian processed hair
100% hand made, usually ships within 6-10 business days
If you need help with colors; use the CONTACT form at the top of this page or email: [email protected]
*Before you apply tape hair extensions, make sure your own hair is clean and free of any oils. Do not condition your hair before applying. Blow dry your hair completely, so that your scalp does not contain any additional moisture.
*DO NOT APPLY TO OILED OR CONDITIONED HAIR ROOT.
**DO NOT WASH FOR 3 DAYS AFTER. This type of extension is semi-permanent & usually last anywhere from 4-6 weeks, with 8 weeks for most customers depending on how fast your hair grows and how you are maintaining it. You can always replace by adding more tape.
Video Testimony:
HERE'S A TUTORIAL BY CUSTOMER/FRIEND; MAKE-UP & HAIR STYLIST: CHELSEA!
https://www.facebook.com/AllDolledUpByChelsea