18" 20 Piece Adhesive Remy Tape In Hair Extensions
$

84.99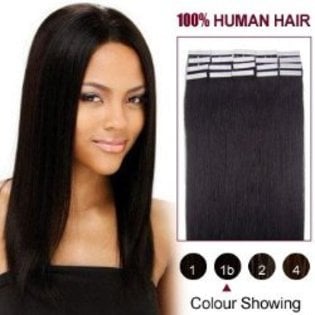 17-18" long REMY TAPE IN Hair Extensions
Ships from and made by MyLuxury1st Hair Extensions
Please allow a little color difference between actual item and picture. [Color may be shown in different lights]
Remember the Picture is a reference.

100% Handmade in the USA. Brand new, Can be heat styled, curled, crimped, washed, dyed, and conditioned with care.
Customer is responsible for knowing how to apply and or how many pieces are needed for their own style. Please ask your stylist if you are unsure.
Tape hair is very easy to apply and can be instantly applied to parted areas of the head. It is simple, invisible and gives a natural appearance. The hair is attached with double sided adhesive tape.

-Part hair on scalp into section where application is desired.
-You can warm the tape before with your straightener but this Tape Hair must be heated to activate glue
-Peel off the sticker on the tape and apply to sections on the head where the Tape Hair is desired.
-Pull a small section of your own hair over the small taped weft and repeat [Your own hair is sandwiched between the 2 tapes of hair] [[Apply directly by using your hand and press with the double sided tape against the hair you sectioned off ( apply to very most upper part of sectioned hair, not directly on scalp ).
-You can use your flat iron for 1-3 seconds to activate the tape then press firmly with your fingers to seal.
-DO NOT WASH FOR 3 DAYS
-KEEP THE ENDS MOISTURIZED OR CONDITIONED

23 Colors to choose from:
#1 Jet Black
Off Black
Very Dark Brown
#2 Chocolate Brown
Dark Chocolate Brown
#4 Medium Brown
Dark Medium Brown
#6 Ash Brown
#8 Chestnut Brown
#12 Light Golden Brown
#16 Ash Blonde
#18 Dirty Blonde
#24 Medium Blonde
#27 Strawberry Blonde
#613 Bleach Blonde [Yellow Tint]
#60 Platinum Blonde [White Tint]
#6/613 Ash Brown/Bleach Blonde
#8/24 Chestnut Brown/Medium Blonde
#18/613 Dirty Blonde/Bleach Blonde
Purple
Red
Red Wine
Pink
18 inches long, standard length [17-18" long]
20 pieces [half head]
1.5g per piece =50g @ 20 pieces in total
Straight, European, Asian, Indian blended texture
100% Remy human hair, silky soft
Re-Useable

A full head may need 40 pieces which would be 100g
Ask your stylist.
Other quantities, inches/lengths, colors, grams, available upon request

Don't be afraid to email, call, or ask questions :)
MyLuxury1st -Text- 323-515-2021
All orders are handmade and usually ship within 6-10 business days. The 1st 10 orders to use code: BARBIE get discounted hair extensions. Shop Now!